Welcome Home, Jenny Sutter

November 15 - December 23, 2012

A darkly funny play about healing and the ways in which we as a nation ignore our returning veterans. When U.S. Marine Jenny Sutter returns from Iraq, she lays down her rifle but isn't ready to pick up her children. Buying some time, Jenny takes a one-way trip to nowhere - a desert community where misfit residents gently nurture her wounded spirit and nudge her back to her own humanity. Award-winning director Jessica Thebus brings Myatt's humor-filled and tender-hearted tribute to Evanston.


Overview
Artists
Press/Reviews
Welcome Home, Jenny Sutter runs approximately 1 hour and 30 minutes with no intermission.
3 out of 4 stars - Chicago Tribune
Highly Recommended - Chicago Sun-Times
Recommended - Chicago Reader
Recommended - Chicago Theater Beat
Performer of the Week (Lily Mojekwu) - TimeOut Chicago
Next Theatre company would like to acknowledge the support of the Elizabeth F. Cheney Foundation for our production of Welcome Home, Jenny Sutter.
Jenny Avery (Lou) was an Artistic Associate with with the company for five years before becoming Artistic Director. She has performed in a number of Next productions, including The Love Song of J. Robert Oppenheimer, The Long Christmas Ride Home, War with the Newts, and most recently, Maple and Vine. She brings a rich experience in arts administration, having served as Development Director and Managing Director for Roadworks Productions, the Director of Education at American Theater Company, and the Assistant to the Executive Director of the Harris Music and Dance Theater. She has performed at Victory Gardens, Writers Theatre, American Theatre Co., About Face, Roadworks, Collaboraction and Strawdog, where she is an ensemble member. Jenny also serves as an adjunct professor at DePaul University's Theatre School.

Kurt Brocker (Donald) most recently appeared in The Laramie Project: Ten Years Later, which ran concurrent with The Laramie Project as a staged reading, both with Redtwist Theatre. Kurt has worked at Timeline, Theatre Mir and with Running With Scissors in Pan & Boone for which he was presented an After Dark Award for his performance. Other companies include Red Moon, European Rep., Court Theatre, Famous Door, Rivendell Ensemble, Prop Thtr, and A Red Orchid Theatre. Kurt went to New York with Famous Door's Beautiful Thing that enjoyed several months at the Cherry Lane Theatre. He and his family are urban farmers growing all kinds of delicious food. He's grateful for this opportunity to work with the good people at Next.

Hanna Dworkin (Cheryl)

is pleased to be returning to Next Theatre, where she was last seen in

The Laramie Project

. Chicago credits include"

Picnic

(Writers' Theatre);

Ghetto

,

Early and Often

,

The Living

,

Remembrance

,

Mann Ist Mann

,

Pride's Crossing

,

Hellcab, A Yard of Sun

(Famous Door

); Humble Boy

(Remy Bumppo);

Mornings at Seven

(Drury Lane);

Pulp

(About Face); '

Tis Pity She's a Whore, Saturday Stories

(A Red Orchid);

Distracted

(American Theatre Company);

Refuge, From a Fading Light

(Plasticene). Regional credits include:

A…My Name is Alice

(Madison Repertory);

The Red Shoes, The Clown of God

,

The Cookie Jar

(Minneapolis Children's Theatre Company). Recent television credits include

Detroit 187

and

Boss.

Max Fabian

(Musician) was last in Next's production of Iphigenia 2.0 and is ecstatic to be working with them again so soon. His other recent credits include The Circus Princess with Chicago Folks Operetta, Pulcinella with Lookingglass Theatre, and he is currently working on Sita Ram with the Chicago Children's Choir at the Harris Theatre. Max received his B.F.A. in Acting from Roosevelt University's Chicago College of Performing Arts and is a founding member of the Inappropriate Theatre Company. He hopes to be back with Next again soon!

Justin James Farley

(Hugo)

is thrilled to make his Next debut. He was last


seen on the Steep stage in Festen and was previously at Chicago Dramatist,
where he was featured in the world premiere, Dental Society Midwinter
Meeting. His most recent television credits include The Chicago Code
and Boss. Justin thanks everyone involved with Welcome Home, Jenny
Sutter, Next, Gray Talent Group and his wife Ashley.

Lawrence Grimm (Buddy) is pleased to return to Next as an Artistic Associate after appearing in Maple and Vine here last season. He is a founding ensemble member of A Red Orchid Theater and co-founder of its Youth Ensemble. With Red Orchid, he has appeared in numerous productions, including Mr. Kolpert, Abigail's Party, and Megacosm by Brett Neveu. Previous credits include Court Theatre (Orlando), Steppenwolf (A Fair Country, I Never Sang for My Father), Lookingglass (The Brothers Karamazov), Piven Theatre (Late: A Cowboy Song, Two by Pinter) and Raven Theatre (The Glass Menagerie - Supporting Actor Jeff Award Citation).

Lily Mojekwu (Jenny Sutter) is tickled to be working at Next Theatre again after appearing in The Overwhelming (Jeff Nomination – Best Production) and Well. She is also very much looking forward to working with Next Theatre in The Exonerated next spring! Favorite Chicago credits include: fml: How Carson McCullers Saved My Life, The Elephant Man, The Brother Sister Plays (performing u/s), Intimate Apparel (performing u/s) (Steppenwolf), This (Theatre Wit), Romeo and Juliet (Chicago Shakespeare), A Twist of Water (Route 66 Theatre Co), Greensboro: A Requiem (SteepTheatre, Non-Equity Jeff Nomination – Best Supporting Actress) and In Arabia, We'd All Be Kings (Steep Theatre, Non-Equity Jeff Award – Best Ensemble). MUCH love to my new husband Jim and my new stepdaughter Sophia.

Jessica Thebus (Director) Credits as artistic associate at Steppenwolf Theatre include: Sex with Strangers, Intimate Apparel, Dead Man's Cell Phone, No Place Like Home, When the Messenger Is Hot (59E59, NYC) and Sonia Flew. Additional Chicago credits include the world premiere of Sarah Ruhl's Stage Kiss, Clean House (Goodman); Orlando (Court Theatre); Our Town (co-director Anna D. Shapiro), They All Fall Down (Lookingglass); Jekyll and Hyde, Inherit the Wind, Red Herring (Northlight); Eurydice (Victory Gardensr); The Turn of the Screw (Writers' Theatre); Salao: the Worst Kind of Unlucky (Redmoon). Regional credits include: Harriet Jacobs (Kansas City Repertory); A Civil War Christmas (Huntington Theatre Company); and the world premiere of Welcome Home, Jenny Sutter (Oregon Shakespeare Festival, Kennedy Center). Favorite projects: Pulp (Jeff Award nomination—Best Director, After Dark Award—Best Production), Winesburg, Ohio (Jeff Award nomination—Best Director, After Dark Award—Best Director), Seven Moves (About Face Theatre); Late, Melancholy Play and Abingdon Square (Piven Theatre). Ms. Thebus is a faculty member in the MFA Directing Program at Northwestern University and an artistic associate at The Corn Exchange in Dublin, Ireland.

Julie Marie Myatt (Playwright)

Her play,

The Happy Ones

, premiered at South Coast Rep, and won the LA Drama Critic Circle's Ted Schmitt Award for Outstanding New Play.

Welcome Home, Jenny Sutter

premiered at Oregon Shakespeare Festival, and a tour of that production went to the Kennedy Center as part of the Kennedy Center Fund for New American Plays. Her play,

Someday

, premiered as part of Cornerstone Theater's Justice Cycle.

My Wandering Boy

, premiered at South Coast Rep in 2007, was part of Pacific Playwrights Festival, and was also produced in New York as part of the 2007 Summer Play Festival.

Boats On A River

premiered at The Guthrie, was a finalist for the Susan Smith Blackburn Prize, and was recorded for the LA Theatre Works radio play series,

The Play's The Thing

. Her ten-minute play,

Mr. and Mrs.

, premiered at the 2007 Humana Festival. Her play,

The Sex Habits of American

,

Women

was produced by The Guthrie, among others, and premiered at the Magic Theatre in San Francisco. Her work has been developed or seen at Actors Theatre of Louisville, Seattle Rep, Cherry Lane, A.S.K. Theatre Projects, LAByrinth Theater Company, Denver Center Theatre Company, and ACT Seattle, among others. She received a Walt Disney Studios Screenwriting Fellowship, a Jerome Fellowship at The Playwrights' Center, and a McKnight Advancement Grant. She is currently working on commissions for Roundabout Theatre, Yale Rep, and Center Theatre Group. She is an Ensemble Member of Cornerstone Theater Company, and a resident member of New Dramatists.
Production Team
Jamie Karas (Props Design)
Amber Johnson* (Stage Manager)
J.R. Lederle (Lighting Design)
Alexis Links (Dramaturgy)
Adam Liston (Production Manager)
Kevin O'Donnell (Sound Design)
Jackie & Rick Penrod (Scenic Design)
Melissa Torchia (Costume Design)
Megan Wheeler (Assistant Stage Manager)
"There are real rewards here... [it] will surely sit with you long after you leave."
-Chicago Tribune, 3 out of 4 stars
"Julie Marie Myatt's wise, searing, often mordantly funny play"
-Chicago Sun-Times, Highly Recommended
"Starring as the tough but weathered Jenny, Lily Mojekwu gives a captivating performance."
-TimeOut Chicago, Performer of the Week
"Expertly realized by Thebus' small ensemble cast."
-Chicago Magazine
Lily Mojekwu is a strong central figure in Julie Marie Myatt's portrait of a Marine's uneasy homecoming.
-TimeOut Chicago
"Struggling to stay strong even as grief threatens to swallow her whole, Lily Mojekwu's Jenny is riveting."
-Chicago Reader, Recommended
"'Jenny Sutter' explores returning vet's plight"
-Chicago Sun-Times
"Julie Marie Myatt's timely and troubling portrait of a damaged U.S. Marine just home from war"
-The Denver Post
"Jenny Sutter has incited significant dialogue among its audiences"
-Bohemian.com
"It resonates with truth, sincerity, and hope for a welcome home."
-DC Theatre Scene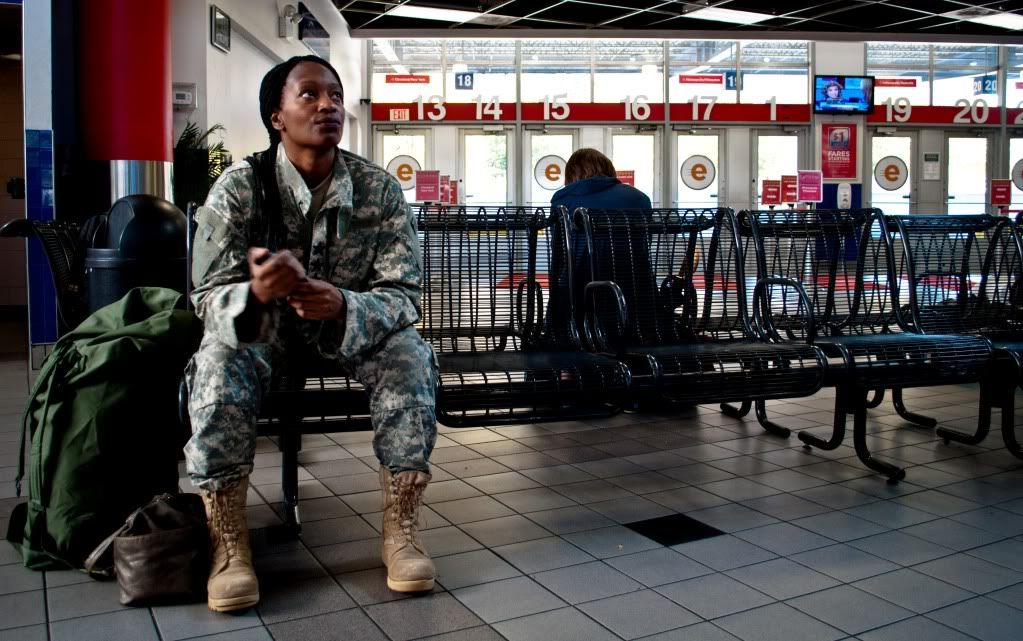 (c) Isabella K. Coelho

(c) Isabella K. Coelho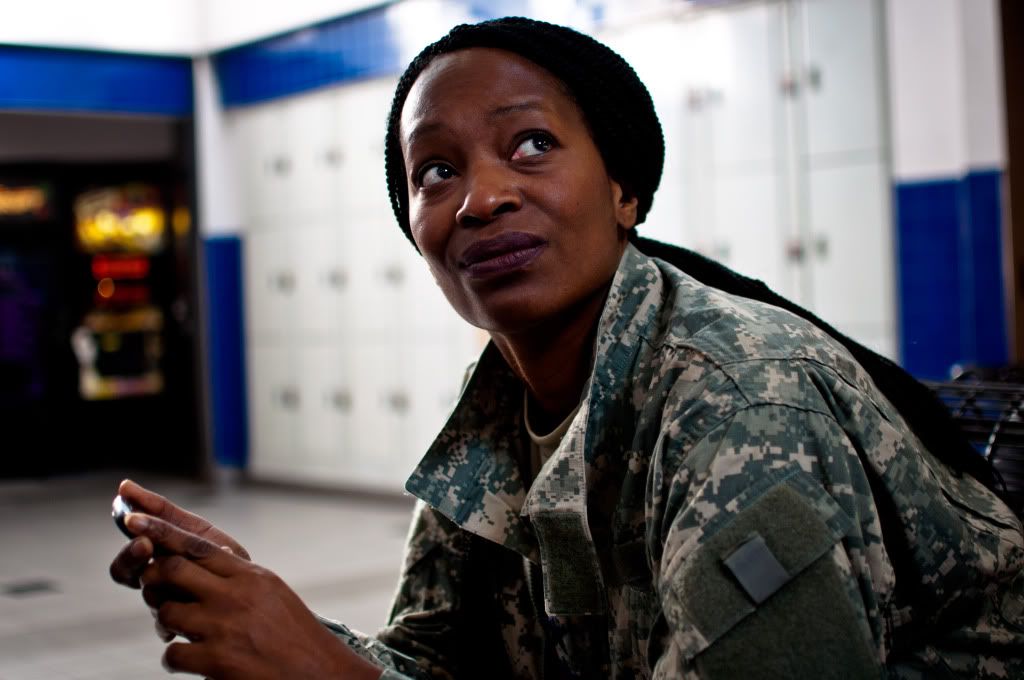 (c) Isabella K. Coelho